Jaguar E-type (2017)A true legend

The Jaguar E-type is a true legend. This car is known as one of the most beautiful cars ever produced. Even today, decades after its launch at the Geneva International Motor Show in 1961, this icon is still very popular.

When Enzo Ferrari describes a car as 'the most beautiful car ever made' you just know it is something special. The Jaguar E-type has inspired many people in different ways. It inspired me to paint this hyperrealistic artwork.

Read the full story below.

€10,000.00

Including:

Handmade frame
Official Certification
Material
Linen canvas on aluminium frame
Size (bxh)
170x110 cm / 66.9x43.3 inch
Handmade
Yes
Weight
20kg
Timelapse Video
No
Category
Original artwork
Reproductions
No
Comes with frame
Yes
Estimated hours painting
250
A lot of people love the Jaguar E-type. For some, it is the car of their dreams and for others it brings back fond memories. Ever since I saw my first E-type, I knew I really wanted to create a painting featuring those gorgeous lines.
The car and its reflection are painted on a dark background. Although the reflection in this painting creates a well-balanced composition, painting this perfect reflection can be a tedious process. Especially with spoke wheels. It is important to count, measure and outline every spoke correctly by hand. When that is finished, it is time to paint the highlights, the shadows and the reflections of the other spokes onto every single spoke. When you work with a mirror image, you must go through this process twice. All of these steps have made this my most time-consuming painting yet.
I am regularly invited to paint at classic car shows and they are the perfect stage to work on an E-type painting. The painting went with me to the Techno Classica in Essen (Germany), to the Historic Grand Prix at the Zandvoort circuit, to the Race Retro event in Stoneleigh (United Kingdom) and to many others. The E-type is such a popular car and whenever I bring this artwork with me, it always is a real conversation piece.
This item in the webshop is the original painting. It is now for sale. It comes with a beautiful handmade frame and official certification. Take advantage of the opportunity and buy your own original car painting here.
Other artworks from this category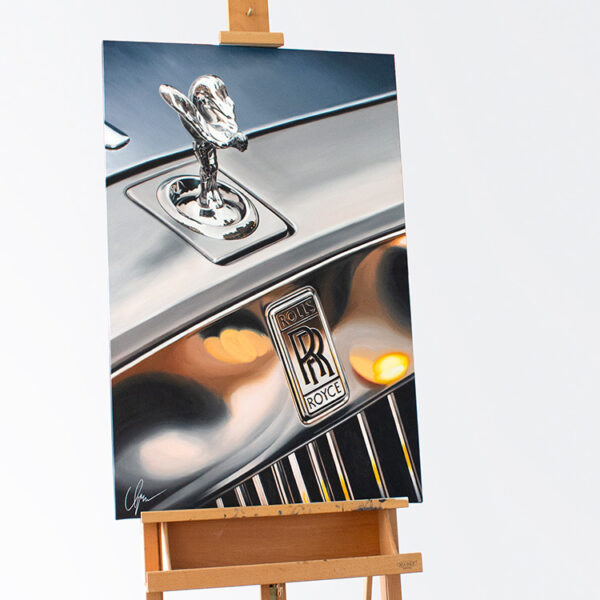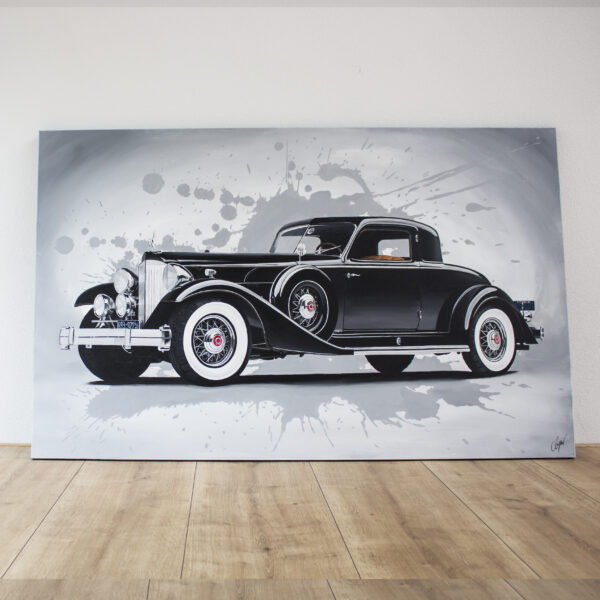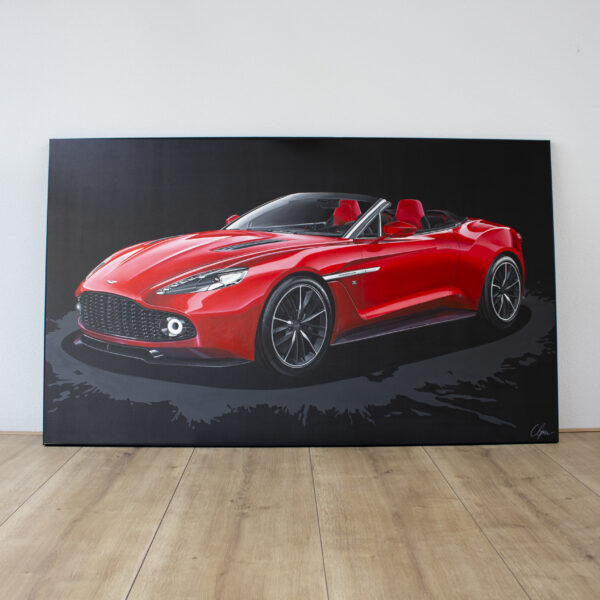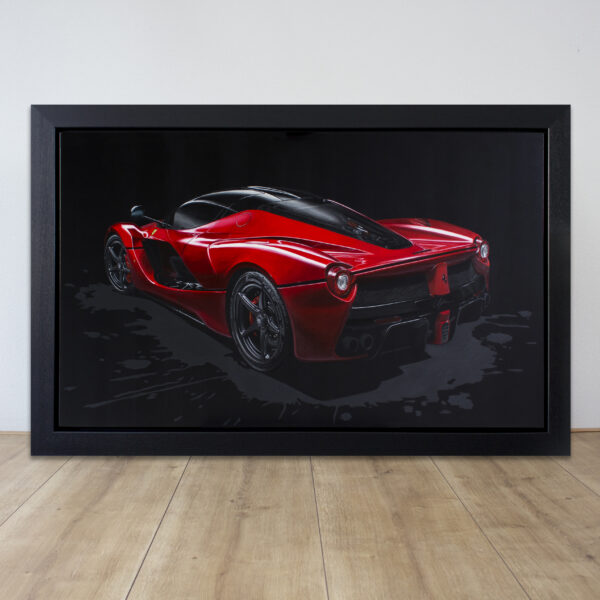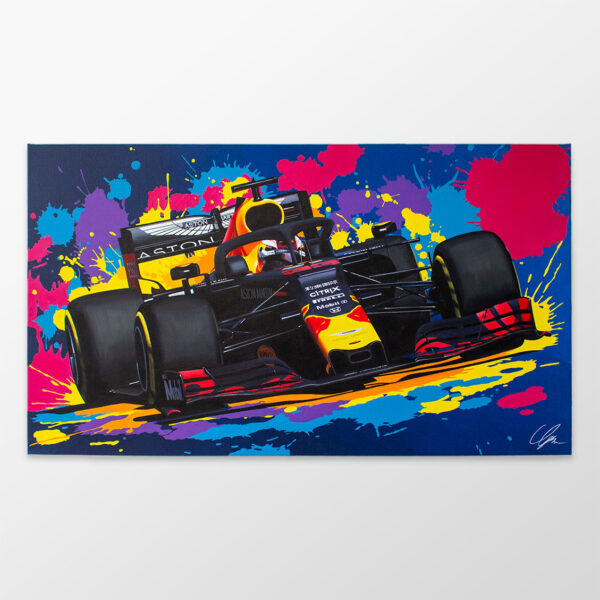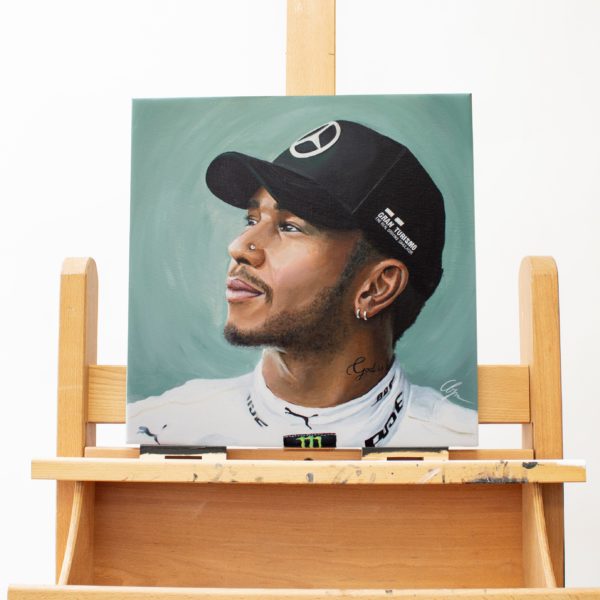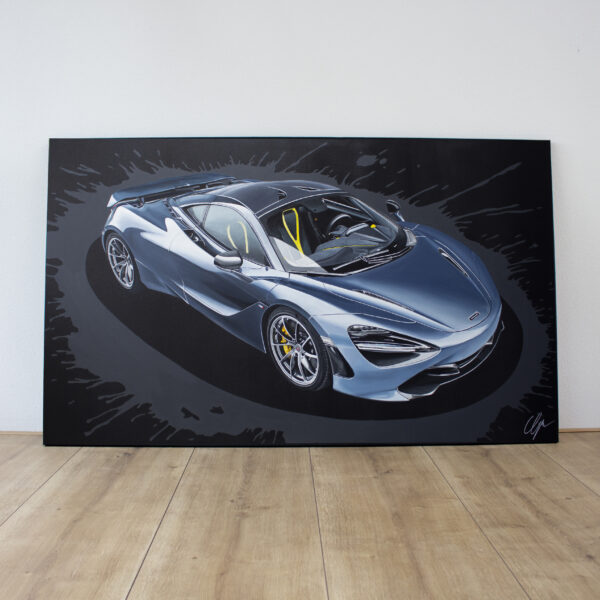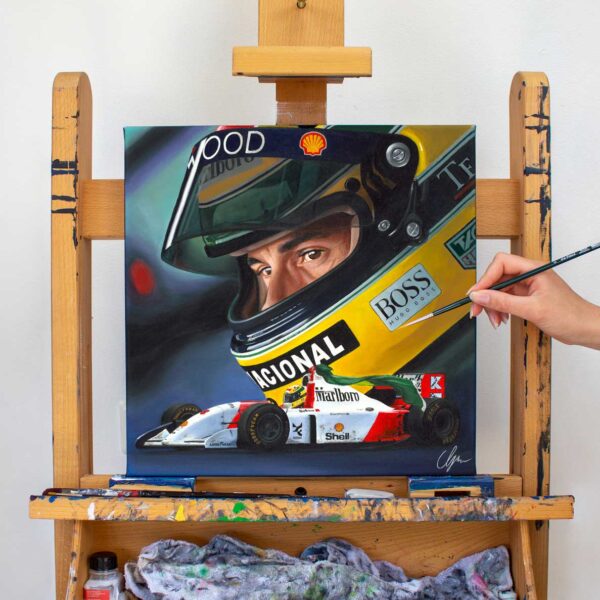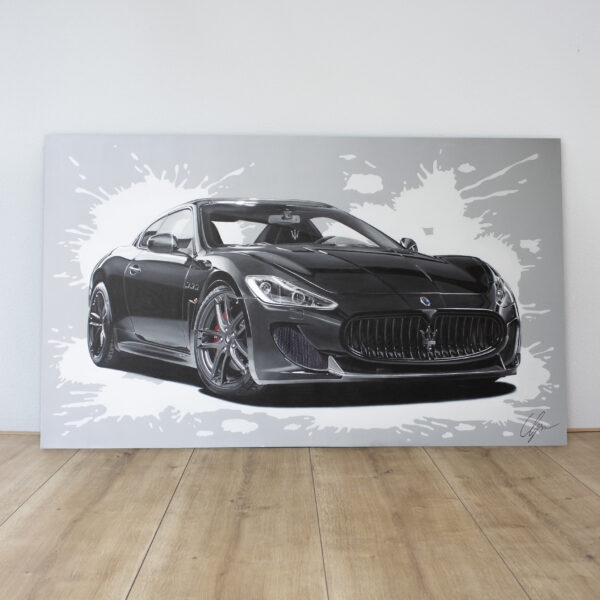 DO YOU WANT YOUR OWN
CUSTOMMADE AUTOMOTIVE PAINTING?
Art is personal. Sometimes you get lucky and you fall in love with an artwork. And sometimes, you dream of an artwork that has not been made yet. When you cannot find what you are looking for, the best option is to have it tailormade by a professional. Contact the artist to create a one-of-a-kind hand-painted artwork of your own car.
I WANT MY OWN CUSTOM PAINTING
LEARN MORE